Ugly John's Custom Boats, LLC.
32550 Thunder Bay Road
Afton, Oklahoma, US, 74331
Tel:918-782-4414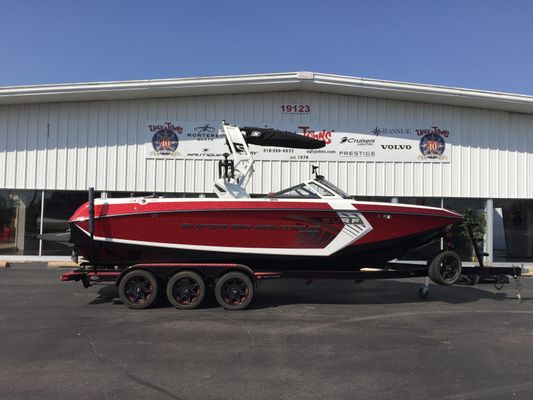 2018 Nautique Super Air Nautique G25
Eufaula, Oklahoma
***Brand New 2018 Nautique G25***
PCM H6DI
Studio Elite Stereo Upgrade
Vertical Board Racks
Heated Driver & Passenger Seats
Heater & Defrost
Pocket Door Air Dam
Full Cover
Platform Cover
Underwater LED's
GPS
And many standard features!
Come see this boat at Ugly John's Catoosa location. Financing & Delivery available.
*Boat is pictured on yard trailer. Custom, all black, triple axle Boatmate included.
Specifications
Total Engine Power
450 hp
Manufacturer Provided Description
The biggest boat in our line-up, the Super Air Nautique G25 leaves absolutely nothing to be desired. Room for 19 and plenty of storage for all your gear, this boat comes chock-full of features and innovation that command your attention. Not a single detail escaped our design team in creating this wonderfully thought-out boat, which makes the experience of driving and riding behind a G25 like no other.
Sound
Nautique and JL Audio have created the best audio systems in the industry with engineered sound that is unmatched on the water. The M-Series Elite package comes standard on the Super Air Nautique G25 featuring 6-JL M-Series speakers and a 10" subwoofer powered by an 8-channel amplifier. Our optional M-Series Studio Elite package steps up for 2017 with two 12" subwoofers and includes the G23 and G25 exclusive JL WaveFront™ technology featuring JL 6.5" M-Series speakers firing through a specially-tuned aperture at the base of the windshield. This premium sound package also features zone control to configure sound throughout your boat just the way you like it.
Hull
The Super Air Nautique G-Series hull design has revolutionized the industry proving that it is possible to optimize wake and wave shape for all skill levels and line lengths. Wakeboarders from beginner to pro look to the legendary wake and wave of our G-series boats when pushing themselves and the sport to new levels. Our Nautique Configurable Running Surface (NCRS) is seamlessly integrated to fine-tune the hull under every condition along with 2,850 pounds of sub-floor ballast to customize the experience for every rider. The Nautique Surf System is designed into the hull to work in concert with hull features and the NCRS to create a fully-adjustable, perfectly-shaped wave on either side of the boat in seconds.
Surf System
The Nautique Surf System® (NSS) with WAVEPLATE® technology is integrated into the hull to engage on either side of the transom at surf speeds working seamlessly with the running surface to create a larger wave with each pound of ballast. Offering full adjustability, the WAVEPLATE extends outward and down from the transom to intercept and redirect the flow of water forming a wave that can be customized for every surfer. NSS allows surfers to switch sides instantly without the need to offload ballast or people and fine-tune the wave with variable settings that adjust steepness and shape by controlling exactly how much the WAVEPLATE is engaged.
Disclaimer
Specializing in Nautique Boats, Monterey Boats, Premier Pontoons, Coach Pontoons, Cruisers Yachts, Carver Yachts, New Boats, New Boats Oklahoma, New Boats Tulsa, New Boats Grand Lake, Used Boats, Used Boats Oklahoma, Used Boats Tulsa, Used Boats Grand Lake, Boats for Sale, Used Boats for Sale, Custom Boats for Sale, Boats Sales, Boats, Sea Ray Boats, Chaparral Boats, Cobalt Boats, Malibu Boats, Shi Boats, Surf Boats, Wakeboard Boats, Surfing, Wakeboarding, Tubing, Family Fun, Lake, Water Tritoons, Tri toons, Sun, Mastercraft Boats for Sale, Boat Repairs, Cruisers, Used Cruisers, Cruisers for sale, Deck Boats, New Cruisers for Sale, Tulsa Boats Sales, Nichols Marine, Blackbeard, Honda
Additional Contact Information
Ugly John's Custom Boats
918-266-6633 - Catoosa
918-782-4414- Grand Lake
sales@uglyjohns.com